DiscoverBrands Systems Limited is a social enterprise based in Kenya. We incorporate technology and creative techniques to re-use, upcycle and recycle plastic into locally manufactured plastic lumber and other functional end-products for sale e.g. furniture, signage's, flower pots, coasters, fridge magnets, decorative/artistic merchandise etc. We also value-add the recycled plastic into new products. Our value chain incorporates Green and Circular Economy principles and concepts such as eco-design, resource recovery, segregation at source and recycling technologies and techniques. We sustainably produce end products that are sold and used in the local markets. This helps us in the delivery of SDG 12 – Responsible Consumption and Production.
DiscoverBrands is an implementing partner in the New Plastics Economy Kenya project under the P4G Partnering for Green Growth and Global Goals 2030 platform. NPE-K project is a public private partnership under the stewardship of KEPSA (Kenya Private Sector Alliance) and the Danish Embassy of Kenya (Strategic Sector Cooperation (SSC). NPE-K partnership was formed by the Kenya Private Sector Alliance (KEPSA) with support from the Danish Environmental Protection Agency (EPA) Kenya, PET Recycling Company Limited (PETCO) Retail Traders Association of Kenya (RETRAK), BESIC Group Ltd, DiscoverBrands, County Government of Nairobi and Kiambu, Center for Clean Air Policy, Kenya Climate Innovation Center (KCIC), Coca-Cola Beverages Africa (CCBA) and the Government of Kenya. The partnership focuses on plastic waste management in Kenya. The partnership has continuously increased the use of recycled plastic products and improve the collection of plastic waste through voluntary Extended Producer Responsibility schemes and policy recommendations. The Danish EPA is engaged in the partnership through a Strategic Sector Cooperation project on recycling of plastic products between the Danish EPA and Kenyan authorities.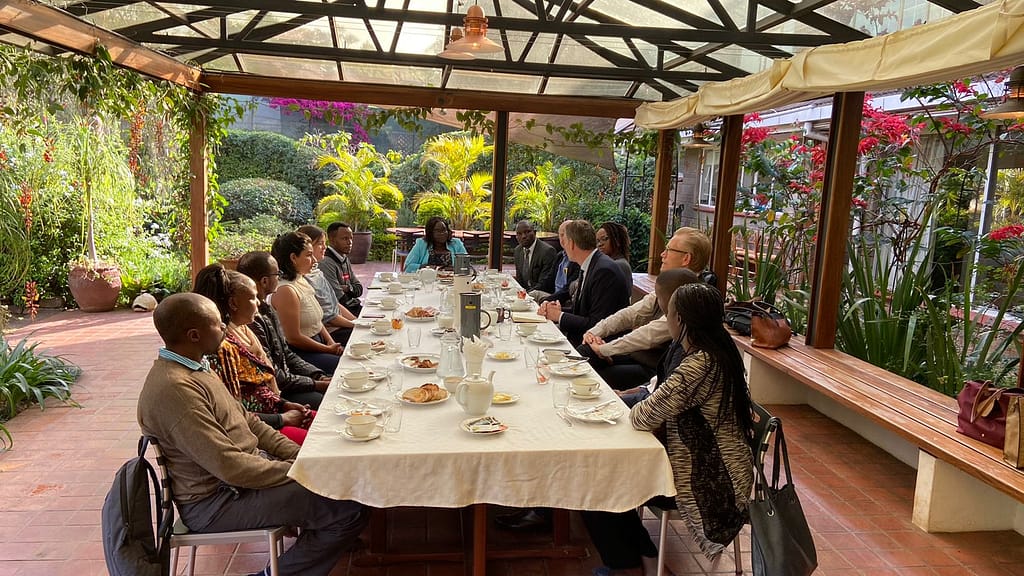 DiscoverBrands has now set up base in Diani Beach, Kwale County. The town's economy is mainly dependent on tourism with seasonal fishing and sports hence a high plastic product use. Resource recovery and recycling in Diani has been a challenge over time hence creating a negative impact to the environment. This especially affects the drainage systems and water bodies at large.
DiscoverBrands is also active in mangrove planting and restoration in Funzi Island region. In partnership with Funzi Kinazini Dhow Safaris, the Kenya Forest Service and the women of Bodo village we are able to plant an average of 1000 mangrove propagules per week. This is to encourage carbon sequestration. On average, it is estimated that a mature mangrove tree can sequester anywhere from 150 to 300 kilograms of carbon per year.
Awards and Recognition
P4G Implementer for the Circular Economy project NPE-K that stopped the National government PET plastic ban of 2018.
Development of one of the first replicable PET Plastics circular economy model in the country and regionunder the NPE-K project.
Creative Business Cup 2018 Africa Winner and Global runner up at Copenhagen, Denmark.
Africa Development Bank/Africa Vs Virus competition 2020 winner.
Nomination for the Danida Fellowship Scholarship course on Green and Circular economy at the University of Copenhagen, Denmark. (Course completed)
Top 35 under 35 Youth Agenda Kenya 2021 Winner (Environment Category).
Canon/ Dubai Expo 2020/21 panel presentation.
7 Annual Devolution Conference 2021 Innovation Space National Exhibitors courtesy of COG (Council of Governors), UNDP and Office of the President (Generation Unlimited)
Kenya Innovation Week Exhibitors 2021 courtesy of UNICEF and Generation Unlimited.
Winner of the East Africa Startup Award 2021 (Industrial Tech Category).
Winner Kiambu Youth Innovation Week 2021